Jardin
The winding drive, down an avenue of beech trees to the front of the house, belies the formality of the garden, not yet visible, at the rear.
The picturesque drive arrives at a formal, almost austere, front façade. And contrast is, for me, the key characteristic of the gardens at Powerscourt Estate, named by "National Geographic" as  number 3 in its Top Ten Gardens of the World.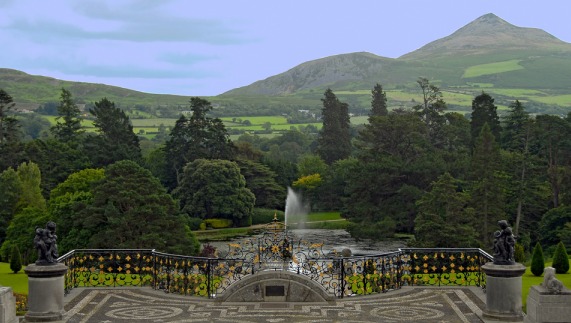 The Powerscourt Estate is nestled in the Wicklow Mountains, an easy drive from Dublin, in an area of breathtaking natural beauty. And it is this contrast, which is particularly interesting at Powerscourt – the formal green symmetrical amphitheatre laid out below,with its terraces, statues and grottoes, wrestling for attention with the natural backdrop of the fields and the Sugarloaf mountain beyond.
And I think it does pull it off – the monolithic statues managing to frame the distant view and mirrored by the…
View original post 554 more words